Frontier e-HR leapsUP Overseas Travel Authorization
Maintain Control of Your Company's Travel Expenses Before It Happens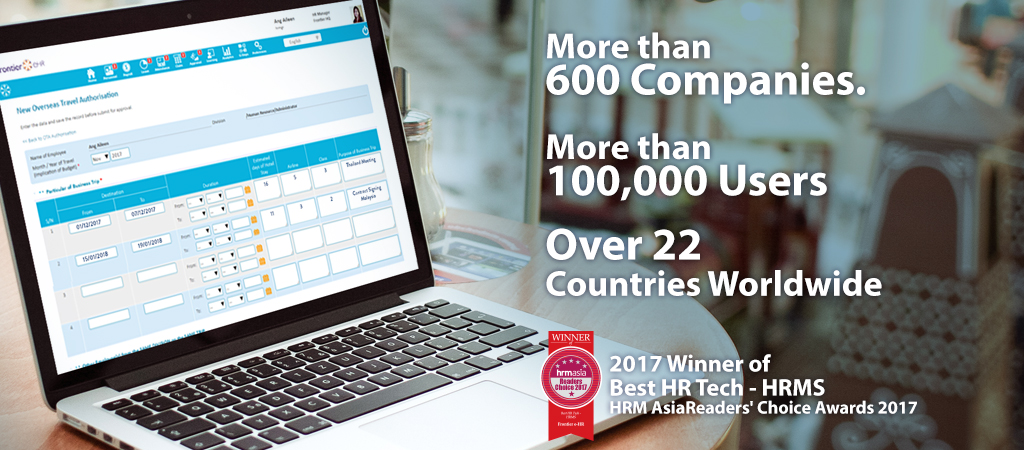 Frontier e-
HR
 leapsUP Overseas Travel Authorization provides you with solution to simplify your pre-trip request and approval process, helping you to manage the expenditures before it happens. leapsUP is an innovative and robust solution which automates the process and integrates with Leave and Expense Management System. With leapsUP, you can gain visibility into the purpose of the trip, estimated cost of travel, forecast expenses outside of travel booking and cash advances.
Your employees will have the convenience to submit their travel request, replacing tedious email or manual requests into a single system.
Enable your managers to compare estimated costs against up-to-date budget data and make strategic decisions to eliminate unnecessary expenditures.
Our comprehensive reporting features allow your administrators' time to easily track "planned versus actual" spending, providing a better control over your budget.
Frontier e-HR leapsUP supports you to make timely decisions based on accurate travel expense analyses through these comprehensive features and facilities
Assurance of compliance to your company pre-trip policies even across different companies/countries
Truly one-time set-up and the rest are full automation
Comprehensive pre-trip policy configurations which support various types of travel and non-travel expenditures
Replace tedious email and manual requests through cloud self service functions
Create a better travel budgeting and empower the managers to perform an informed travel approval decision
The flexible and user-friendly interface to empower the user to submit their requests when needed.
Receive notification for travel requests on the dashboard, such as application date and approval status.
DID

 

YOU

 

KNOW

?

According to a survey conducted by J.P Morgan, more than $1.2 trillion is spent globally on business travel in 2016.

In fact, travel expen